PUNCH NEEDLE ACADEMY
Our custom online teaching platform, based in Oxford-Certified Technique. Punch Needle Academy was created to give you the same skills you would learn from in-person classes but designed to be taken from anywhere and at your own pace.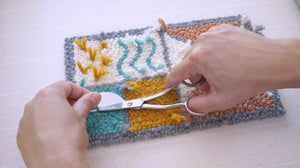 Punch Like a Pro Foundation Course
Our flagship course, taught by Oxford-Certified instructor Micah Clasper-Torch, provides a strong foundation based in the traditional methods and legacy fundamentals of punch needle rug hooking. Through comprehensive videos and in-depth instruction, this course will give you the skills and confidence you need to create beautiful, professional work that will last a lifetime.
learn more
I am so grateful for Punch Needle Academy. If I hadn't taken this course, I probably would have stopped trying to punch needle and chalked it up to another niche hobby that had come and gone. This course gave me the foundation I needed to get started and feel confident in my ability to create original works that will stand the test of time. Because of this course, I stuck with the craft and it has become a meditative, therapeutic hobby.
Emma O.
Micah teaches proper techniques that remove the frustration and confusion that I found with amature youtube clips. As a teacher and mom who fights to find time to make art, I thought I wouldn't have time for the whole class, but every lesson is short, to the point, and you can easily review when needed.
Anna B.
I never thought I could get so much out of an online class, but Micah designed this course in such a way that students feel supported, inspired and seen. 
Claudia B.
DOMESTIKA
Domestika is a global, online education platform offering project-based courses on specific techniques and objects. Learn how to make a custom punch-needle clutch purse from Micah's widely-loved Domestika course, featured below!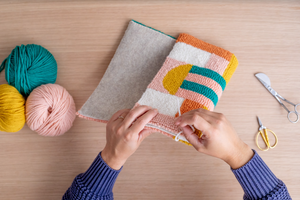 Punch Needle Techniques for Custom Accessories
Learn how to combine original design, traditional and experimental techniques, and construction into a functional work of art. In this course, Micah walks you through her step-by-step process and gives you the skills to recreate her unique, eye-catching, punch needle clutch.
learn more
I have dabbled in punch needling for a few years but had minimal success - until I did this course! I am on clutch number 4 and going strong. Best decision to do the course!!
@tarryncook
10/10 recommend this course! From tools to finishing your piece, Micah has done a wonderful job creating an incredible beginner friendly course that truly sets you up to take what you learn and evolve. Its honestly the best punch needle course I've taken so far!
@jazminantoinette
Excelente curso! me encanta cómo lo explica, recomendado al 100%
@bentonm87
Such a wonderful easy to follow tutorial. The downloads a fantastic extra. A highly recommendable course for all.
@jodiegreaves
Una profe super profesional y creativa, que te enseña técnicas muy claras para iniciarte en los básicos pero también para soñar con creaciones más complejas a medida que avanzas y te permites expresar tu creatividad. Me está gustando muchísimo
@cnovarese
This was a joy to watch. The instructor is clear and easy to follow. Definitely a great course to take if you are just starting punch needling.
@tracygill83